Petlife is powered by Vocal creators. You support
Katie Jones
by reading, sharing and tipping stories...
more
Petlife is powered by Vocal.
Vocal is a platform that provides storytelling tools and engaged communities for writers, musicians, filmmakers, podcasters, and other creators to get discovered and fund their creativity.
How does Vocal work?
Creators share their stories on Vocal's communities. In return, creators earn money when they are tipped and when their stories are read.
How do I join Vocal?
Vocal welcomes creators of all shapes and sizes. Join for free and start creating.
To learn more about Vocal, visit our resources.
Show less
Why I Love My Therapy Dog
"Patients and nurses alike love getting visits from King."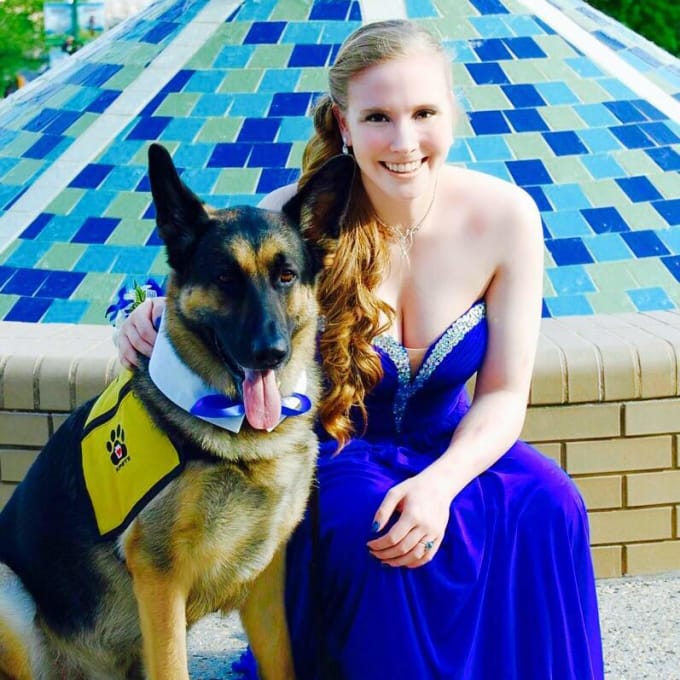 About three years ago, my family and had to put down my dog Snoopy. She could no longer walk, eat, or move without being in pain, so we decided to end her suffering. Snoopy was my first dog that I could really remember having memories with, since the first dog my family had died when I was too young to really remember. My family has always had dogs in it, so we didn't wait too long before getting the dog we have now. It was too quiet in the house without a companion around.
One day, my parents decided to take a trip to the local Humane Society to just look around. When the walked through the doors, they immediately had their attention drawn to a 1-year-old German Shepherd. This was very rare for the shelter, considering most of the dogs there were Pitbulls. Coming across a pure breed German Shepherd was very rare and unlikely. My parents saw that there was already a family with the dog, and because of this, my parents were discouraged. As they passed the family, my mom said, "What a beautiful dog!" As they continued to walk away, the family that was looking at the German Shepherd, stood up and said, "I think this is your dog! We do not think he is right for our family." Happy, my parents spent the next hour with King, the German Shepherd dog. In that hour, my parents decided to put a hold on King, since everyone in the household needed to meet the dog before adopting him.
A day later, my brother and I made a trip to the shelter to visit King. At first, I was not very hopeful because King seemed too interested in the toys and not very interested in me, so I assumed he didn't like me. We went on with the adoption anyway, and brought King home two days later.
It has been almost four years now since we have had King as part of our family. In those four years, we really got to know King and his personality. Most people assume that German Shepherds are aggressive and mean. However, King is the total opposite of those things. He is the biggest baby. He will let you lay right next to him and you can put your face in his and he doesn't mind. He loves to snuggle and will even put his arms around your shoulders and pull you in for a hug! This dog doesn't growl and barely barks, and is even afraid of garden gnomes, although I still believe if someone was trying to harm us, he would protect us.
I have a lot of medical issues that cause me to be in the hospital frequently. One time, I was admitted to get my gall bladder removed. While I was in the hospital, I was visited by a therapy dog and his owner. Through talking with the owner and meeting the dog, I came up with the idea that King would be an excellent candidate for a therapy dog! Not too long after that day, we looked into the program called Keystone Pet Enhanced Therapy Services, or KPETS for short. We enrolled King, got him trained, and in a few short months, he would be Therapy Dog certified. Now, we take him to hospital and nursing homes all over the area.
I love my therapy dog because I get to see how he has changed people's lives. Patients and nurses alike love getting visits from King, and I get to see how he brings the anxiety down in both the staff and patients.
I love my therapy dog because he is not only serving the community, but he is serving me, as well. I have mental health issues of my own and King helps tremendously. Even if I didn't have these diagnoses, he would still be good therapy for anyone, sick or not.
I love my therapy dog because he has changed the stereotype for his breed. Before the local hospital knew about King, they did not allow German Shepherds in the program, because of his so called "aggressive" breed. But once the staff met King, they instantly changed their minds.
I love my therapy dog because he listens to me vent, lets me cry on him, and is always there if I need someone to snuggle with. I love my King!