Petlife is powered by Vocal.
Vocal is a platform that provides storytelling tools and engaged communities for writers, musicians, filmmakers, podcasters, and other creators to get discovered and fund their creativity.
How does Vocal work?
Creators share their stories on Vocal's communities. In return, creators earn money when they are tipped and when their stories are read.
How do I join Vocal?
Vocal welcomes creators of all shapes and sizes. Join for free and start creating.
To learn more about Vocal, visit our resources.
Show less
Simple Ways to Spoil Your Cat
DIY Toys, Treats, and Much More!
Do you have a special cat in your life that you feel like spoiling, but aren't quite sure how to spoil such a picky creature? Look no further—here you will find some simple yet great ways guaranteed to spoil your cat, maintain their health, and keep them occupied for hours without breaking the bank!
Treats (Both DIY and Affordable Options)
Treats are a great way to show your cat you care, and also maintain their emotional and physical health! Below you will find simple and affordable treat options that are sure to please any cat, even the picky ones.
Cat Grass
A simple, natural, and affordable treat any cat is sure to love! Cat grass is typically grown from rye, oat, or wheat seeds, and has many benefits to a cats health. Some of these benefits include to aid digestion, induce vomiting (don't worry; your cat does this on purpose by not fully chewing the blades of grass so that they "tickle" the stomach to induce vomiting) if the cat's stomach is upset, and can also work as a dietary supplement as it contains fiber and vitamin B.

DIY Salmon Treats
Make your own cat treats with this simple and easy recipe.
You will need:
6-7 ounces of canned salmon, with the juice

1/2 cup cornmeal

1/4 cup non-fat dry milk

1 egg

1 tablespoon cooking oil

2 tablespoons water

1 cup flour (whole wheat or all-purpose)

Steps
Mix together all ingredients except for the flour. 

Once all other ingredients are mixed thoroughly, slowly add flour while mixing. 

Place dough on a flat surface and roll out until it is around 1/4 inch thickness. 

With a sharp knife or pizza cutter, cut into strips and then into smaller pieces as shown in the image above. 

Place on a cookie sheet and bake for 10-15 minutes, and that's it! a simple way to create a large quantity of treats your cat is sure to enjoy.

DIY Toys
Toys are a very simple way to spoil your feline friend, keep them entertained, and allow them to get exercise all in one go! Below are some simple and affordable DIY toys that your cat/s are sure to love!
Toilet Paper Roll Toy
A very simple DIY, and who doesn't have at least one empty toilet paper roll hanging around somewhere? Simply bend in each end of the roll and and fill with a few treats to create a slightly noisy (which cats find very intriguing) toy with a surprise treat in the middle!
DIY Scratch Post
All that you need is a roll of thin rope or twine, a wooden board/plank, and a flat base to create a simple scratch post for your cat to enjoy. They'll love the opportunity to file their claws and stretch out their muscles, and you'll love that they leave the couch alone!
Fabric Knot Toy
If your cat enjoys softer toys, this is the toy for them! All that is needed to create this simple toy are scraps of fabric. Old t-shirts, blankets, and towels are great options. Simply cut your fabric scraps into strips, and then tie into a few knots! 
Miscellaneous
And now; here's some other options that don't really fit into any category, but that won't stop your cat from enjoying them! 
Window Bed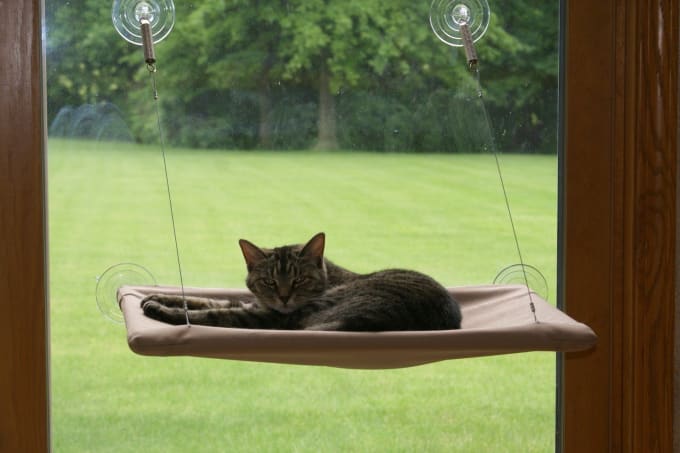 Providing your pet with a comfortable sleeping area, and also an exciting observation area, will surely keep your feline friend happy. Beds that attach to windows via suction cups are growing in popularity and can be purchased for an affordable price online, and also in some pet stores.
Downloadable Apps
If you're feeling particularly lazy, why not just download an app for your cat? Several options exist (for example, Cat Fishing 2 by Friskies), and are made to stimulate your cat's senses by mimicking bugs or other small animals in which the cat 'chases' around the screen. Simply searching "cat game" into your cellphone or tablets app-store should do the trick. 

And, If All Else Fails...
What cat doesn't love a cardboard box?