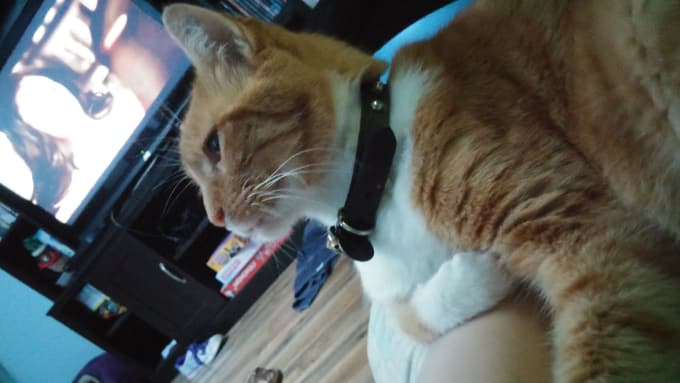 When I was young, my first cat Onyx had passed away. A year or so later, my mom came home with this wonderful orange cat. She said his previous family refused to keep him and that if she didn't take him, he was going to be put on the street. So, she had brought him home to see how he would do with all of the other animals that we had. He adjusted well. He stayed in my room for the first week and would rarely come out from under my bed. He loved me. He was my cat. 
Soon after that, my mom finally agreed to let me get another cat. See, I was and am this crazy cat lady that absolutely loves cats. So, my mom's friend found me a kitten. Now, this kitten liked me until she got tangled up in the string from a mouse toy. I had freed her and got my hand pretty torn up because of it. Ever since then, she's not too crazy about me. But Nemo, well, Nemo loved me even more.
If I left the house for a weekend or a couple of weeks, he would freak out. My mom ended up having to put him on Prozac to help me. I loved him, though. Every night, he would lay with me and wouldn't leave my side. 
Nemo was 11-and-a-half years old when I sadly had to put him down. See, every year he would have this flare up when he would get super itchy and pull out a lot of his fur. So, he'd go to the vet and get a shot. That usually worked. Last year, he had to get it twice. This year, he got it earlier and even a couple other times. Nothing was helping. Well, it would temporarily. Then, he'd be worse. So for two or more months we've been constantly trying to figure out what was wrong and what we could do.
Then, we found out he had cancer. He was okay, though. He was happy when I was around, he was eating,  andhe was normal. Then, I noticed he wasn't as happy to eat. It was difficult for him to. Then, we noticed he wasn't as happy at all. He was still happy with me but only with me. Then, my mom felt the mass. Before, we could only see it on the ultrasound. Now she could feel it. We knew it was time. I knew it was time. And I hate having to make that decision and my mom offered to, but it wasn't hers to make. He trusted me and loved me. He was my baby, and I had to make that decision. And I kept telling myself that it was going to be okay, that it wasn't the end of the world, but it was the end of his world. And though I have another kitten (a different one than previously mentioned) and Nemo strangely seemed to like this one even though he didn't like any other cats, it's still hard coming home every day and not seeing him waiting for me at the door or in my room. It's hard waking up in the middle of the night and not seeing him there. My kitten Sam is there, though, and that helps. But it's still so hard without Nemo. It's only been a week, but I miss him so much.
He wasn't a big fan of other cats. But he liked the kitten I got earlier this year. It was strange, but now I'm thinking that he knew he was dying. I'm thinking maybe he knew and that he was okay with Sam being there for me. It was kind of like he was giving me away to Sam and happy to know I'd one day be okay. But I'll never forget my Nemo.