My Barrel Racing Downfall
A Horse Of Course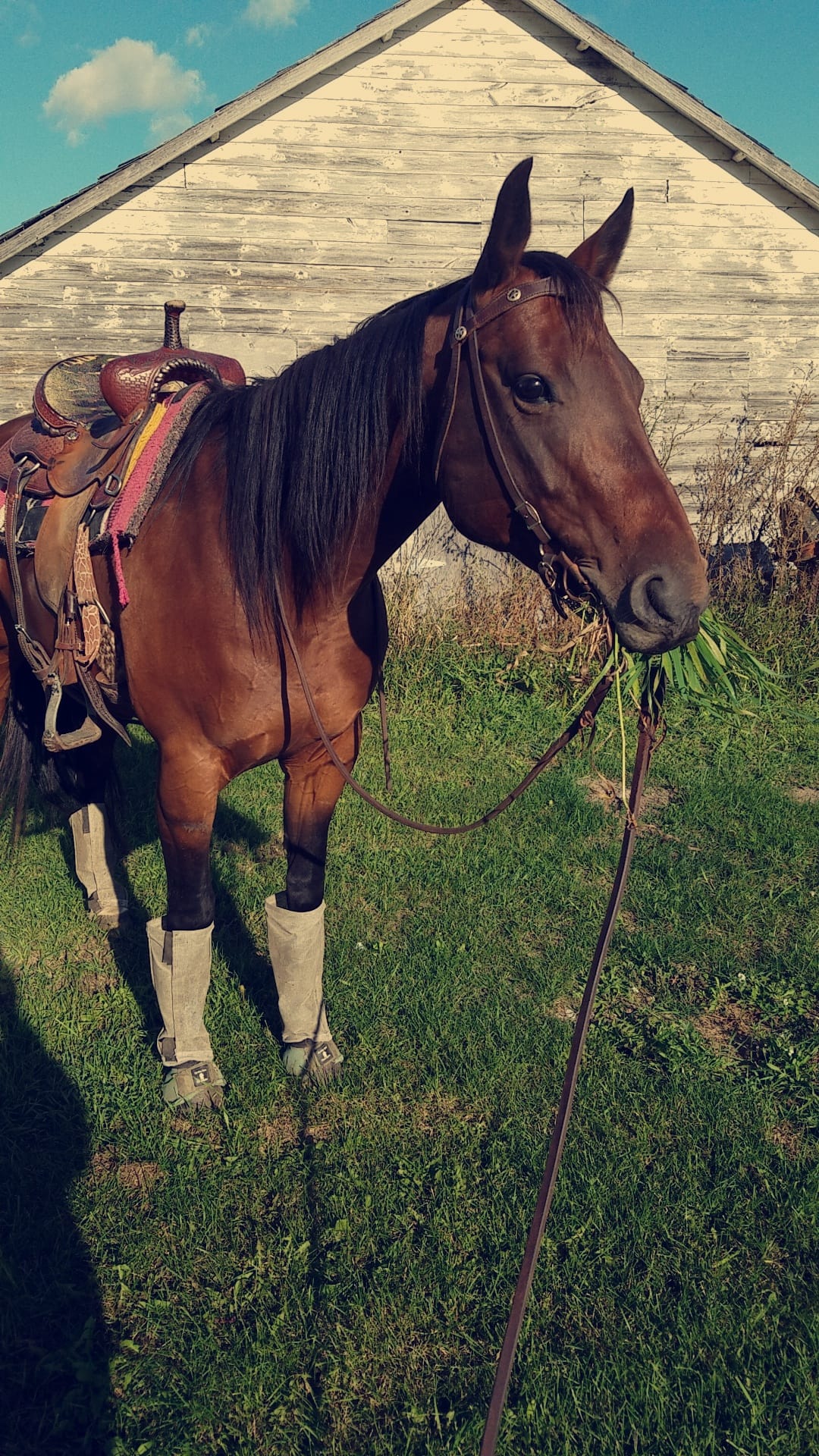 Until 2013 I never really experienced a lame horse or worried that my horse could get hurt or sick and end her career. I was young and naive and I was on top of the world.
Ladie and I won almost everything in 4H, WSCA, and NBHA; unless we knocked over an obstacle, we were nearly untouchable. Not long after winning a barrel race, running the fastest time of the day by 3 tenths, she felt "off".
I couldn't exactly put my finger on it but I knew she wasn't running right. Ladie was clocking more than a half second off at our local arena, and fell in the youth short go at NBHA State Finals. She went on to place 3rd in pole weaving at the 4H State Finals, falling again after the time line, winning Jumping Figure 8 later that day and 2nd in barrel racing the day after. She was always sound and trying, never refusing the arena gate.
After the winter off we made an appointment with a well known performance vet; $700 later, Ladie received stifle injections for a bone spur type hook on the front of her tibia believed to have resulted from her fall 6 months earlier. The fall "stretched" her soft tissues causing a rotation in the joint which caused the hook to develop. After some time Ladie was feeling better but still not right.
My 4 year old Perkie and 3 year old Hope (also Ladie's baby) came up with pockets of swelling on one of their joints. Perkie had swelling on her ankle and Hope on her hock. After an apointment with another local vet for xrays, which were clean, and a blood test for tick borne diseases, they both tested positive for Lyme Disease. At that point I elected to have Ladie tested for Lyme as well. Ladie's Lyme test titer came back with a chronic level of 24,000+.
2014 and 2015 was an ongoing battle to keep Ladie healthy, sound, and pain-free. My once winning 1D barrel horse dropped to the bottom of the pack. Talk about being humbled real quick.
My full time job became a full time income for vet and therapy bills. My goals and dreams felt impossible and I still had a couple years to go before Perkie and Hope were ready to take over Ladie's spot on the trailer. So I did everything I could think of to help Ladie as much as I could. Daily feed through joint supplements, Monthly massages with Turning Point Ranch, Monthly IM anti-inflammatory injections, and I even purchased a Theraplate which is the coolest at home vibration plate ever (still use it almost daily 2 years later!).
I made it through 2014, and 2015 having so much fun with my very special horse, enjoying what I knew was the beginning of the end of our competition days. Perkie was starting to be so solid on the barrel pattern, ready to add some speed coming into fall before her Futurity year, Hope was finally growing up and not bucking during our entire ride, and one more Bulls & Barrels event left before winter!
I remember coming home to take my boyfriend's nieces for a ride, catching Perkie because she is so calm and relaxing to trail ride. Six horses walking up to the barn, Ladie was limping. In the 9 years that I have owned her, she has never limped, even after blowing an abscess out of her hoof. I caught Ladie, her lower left leg swollen from hock to ankle, 90% non weight bearing, 2 days before the last bulls & barrels of the year. I was shattered. Our last run together was not even an option.
A few thousand dollars later in vet bills, Ladie tore her deep digital flexor tendon. She was to be on stall rest for the next six months on a strict rehab program. She hated stalls. Little did we know... a month and a half later, Perkie is coming up lame. Here comes another vet appointment.
By the time the vet had an opening for Perkie, her leg was twice the size of a baseball bat, losing weight, lethargic, and very unhealthy looking. Xrays showed she had a very severe bone infection. Other than her leg being full of cellulitis and her looking unhealthy, there was no other visual damage. The infection could have entered her leg from a wound the size of a pin prick. Another few thousand dollars later in antibiotics, anti inflammatory drugs, banamine, and xrays, she is only broodmare sound.
I was working 20-30 hours a week, driving 45 minutes to college 2-3 days a week, doctoring 2 horses on stall rest, chores for all the horses, living with my boyfriend, and managing to squeeze in my accounting homework (holding a 3.0 gpa) at 21 years old. Bringing home around $800 a month and over my head in vet bills. I had no horse to barrel race, no money for a new horse, and I was spiraling into a deep depression.
Somehow, I fought with my whole heart, I did the only thing I could think of. I took out a loan for a new horse. My heart was so happy, an own daughter of My Stud Leroy. Dash for Perks, Dash Ta Fame, and Doc Olena right on her papers. Denalli. I watched her siblings win in the arena for years and she was all mine! <3
2016 was amazing! Denalli and I had a rough start together but after a few months of just taking things slow and growing as a team, we started kicking ass! We ran a 15.1 at UBRA World which was our fastest time, and my fastest time in that arena in almost 3 years.
In September, my heart sunk, Denalli took a kick to the leg from Hope, and fractured her inner splint bone. Everything was good with the vet. We were told to go on and keep competing!
The weekend after we placed at a bulls & barrels event for my first time ever! Mid October we won 2nd in the 1D, our first 1D check, and second fastest time of the day out of 80+ runs! I was on cloud nine!
In November my friend, Natalie, my dad, and I made a trip to Waco, Texas for the Elite Extravaganza! Denalli came off the trailer very sore and lethargic. I figured it was just from the trip. We had 3 really pretty, clean runs down in Texas and we were having the time of our lives! Dreams were coming true!
Denalli got time off from November to February. We had a check up for her leg in December, I tried riding her over Christmas vacation and something was not right. I made another vet appointment at the University of Minnesota, Piper Equine Hospital. $700 later in lameness exams and xrays they deemed her a .5 on a 1-5 lameness scale. Not enough to be serious but enough to bother her. Her splint bone was healed and didn't react to palpation. Our vet said to get her in shape and inject the hocks.
I got Denalli in shape and we entered a few runs, she did awesome! I brought her to a local vet in April for hock injections, which the vet said she didn't need, but she was extremely back sore. Looking at her saddle, it had a twisted tree, of all things. Denalli was prescribed muscle relaxers and a week off of riding. Another new saddle, we started getting ready for the season. Denalli wasn't running like herself. I knew there was still something wrong with her, even my farrier noticed something was off. I made another appointment with a vet for a 3rd opinion. We decided to do a snap test for Lyme disease, it was positive. $300 later after lameness exam and antibiotics later, Denalli was still off. Every one told me she's fine and she's not. I struggled at races, just letting her pick her pace. Some runs would be awesome! Other runs would tear me apart.
Carrie at Turning Point Ranch pointed me in Danna's direction for biofeedback sessions. Denalli was still being affected by Lyme disease. Danna worked her magic with the machine and Carrie donated some herbal drops from Danna, and Bute Less pellets for pain management. Another new saddle and we went to work.
This brings us to today, Denalli feeling better every day but still not quite right. And so continues our story.