Meet Loki
Alaskan Malamute Living Up to His Mischievous Name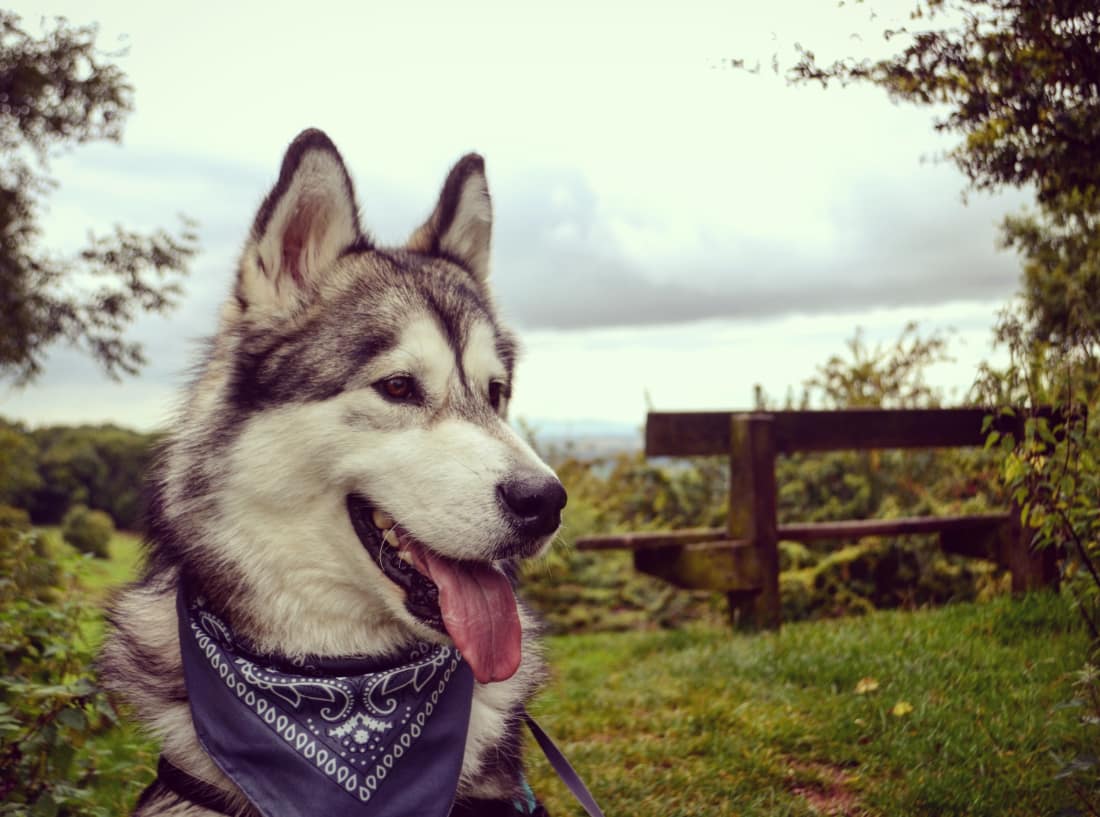 Hey there!
I have always been dog-obsessed, I reckon so much so that my first word as a baby was probably "dog."
I have had dogs all of my life, my first family dog was Chester. He was a beautiful redheaded boxer dog — I myself am a redhead too, so obviously we had a bond right away. I was only two years old when we got Chester as a puppy. Unfortunately, when I was around seven, my parents thought it was best to rehome Chester as he was left alone all day while my parents were working and me and my siblings were at school. Obviously at the time, I really was not happy about this situation, but looking back I know it was the fairest thing to do. Chester went to a home with another boxer dog and a family who had lots of time for him — luckily, we got to visit him sometimes too!
A couple of years later, my grandparents sausage dog — Suzie — became pregnant. Unfortunately, my Granda passed away during Suzie's pregnancy. The three adorable puppies were born on his following birthday — January 3, 2000. We couldn't resist the cuteness, and my Nana let us have the boy puppy. I wanted to name him Max, because we had a cat called Pepsi! But after a family vote we named him Will, because my Granda's middle name was William.
Will was my baby. I had a rough time at school and Will helped me more than he'd ever know. We were lucky and lived opposite Tynemouth beach so quite often I'd take him for a stroll on the beach to clear my head. He loved the beach, apart from the sea which he would quite often bark at!
When my Nana passed away, we took on Will's mummy — Suzie. They adored each other, and I adored them. Unfortunately my parents rehomed Suzie to their friends who had always been in love with dachshunds, although I didn't want her to go, I know that she was spoilt rotten and absolutely adored.
When Will was 8 years old, his back legs and spine completely gave up on him. This was the most upsetting thing that could ever happen. The most difficult decision that me and my family have ever had to face was to put Will out of his misery and stop the pain. I was there for the whole process, and I held him in my arms as he fell asleep. Nine years later and the thought of this still breaks my heart!
A few years passed, and although I missed Will incredibly, a part of me was missing and I knew I needed another dog in my life. Not as a replacement, just to help me have a new lease of life.
November 2010, I met the love of my life in dog form, Emmy. This poor three-year-old British bulldog had been used as a breeding machine for her entire life, and I just had to rescue her and give her the best life possible. She was my world. I spoilt her rotten because she absolutely deserved to be, and I knew that she was grateful for it every single day. I had never been looked at that way before, Emmy worshipped me and followed me absolutely everywhere.
I will write more about my baby girl at a later date, but I still find it difficult to even think about the day that she suddenly passed away at only six years old.
After grieving for three years for my Emmy, I felt it was time to give another dog a new home.
My other half and I have spent the last three winters living the dream in the French Alps! Winter 16/17 we had discussed adopting a pooch once we returned to the UK after the winter and were planning our visits to all of the local rescue shelters.
However, the day came when I met Loki. My friend out there had two beautiful dogs — a stunning two-year-old collie called Sky and this big goofy Malamute puppy named Loki. Sky was a beautiful girl who was the most well-behaved dog I had ever met, and Loki was just a big goofball who adored chasing anything and everything. Mainly skiers!
Unfortunately, Loki was quite the bully with Sky and she was so unhappy having him around. My poor friend had to make the difficult decision of rehoming Loki so that both of her dogs were to be as happy as possible.
So obviously, I jumped at the chance to give Loki a happy home! But my other half needed some convincing. So one day I took Loki for the day so that Tom could meet him and fall in love. Of course, I was right. Tom adored Loki instantly, mainly because of how much he looks like a wolf! We took Loki for a lovely walk by the lake and he very much kept us on our toes, but by the end of the day both of our faces were aching from smiling and laughing.
Tom and I had a few "trial days" with Loki before confirming that we wanted to keep him forever and ever! We just had to figure out how to actually get him back to the UK. Luckily, Loki already had a passport, however, I have a tiny ford fiesta and we had a LOT of luggage to cram into the car. Luckily Loki is a small dog... Oh wait.
After a lot of juggling around we managed to squeeze Loki into the car when the time came to drive back to the UK.
And so the adventure begins...